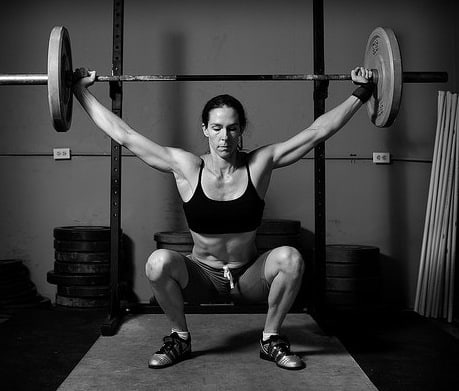 Olympic lifting (the clean and jerk and the snatch) are valuable training methods for increasing full body power. The ability to recruit high-threshold motor units or type II muscle fibers (fast twitch fibers) means you'll be able to produce more force in a shorter amount of time, be able to sprint and accelerate faster and be overall, stronger and more athletic.
Sounds like perfect traits for any athlete to have and want. However, some shy way from O-lifting for fears of injuring themselves or their athletes or that they are too difficult to learn. Rightfully-so though as these lifts are very technical in that each movement executed in either the clean and jerk or the snatch has to be performed in the correct sequence with the correct timing. If proper technical and learning progressions are applied and loads are not excessive, O-lifting can be safe, fun and as noted above, very beneficial to athletic performance.
The list of benefits of incorporating O-lifting into your training is long, but here are 3 benefits you may not have thought of.

1) Core Stability Development

The core stability craze has people in a friendzy wanting to work their core in every workout. Well, it may surprise some to hear that improving core stability doesn't just have to include plank variations. "A strong core is necessary to maintain the torso position from the ground up through the first and second pull" writes Wil Flemming in Complete Olympic Lifting.The inability to maintain a stable torso during the clean or snatch serves as an energy leak and to an inefficient pull. In the clean for example, because the weight is in front of you from the ground until the bar is received on your shoulders, your torso wants to flex forward, thus the clean can be viewed as an anti-flexion core exercise. Flemming likes to use the cue "lock down the lats" to aid in stiffening the torso prior to initiating the pull (from the floor or hang). Lastly, stabilizing heavy weight above your head (not just a weight you can press overhead, but a weight heavy enough to require explosive power to get it up there) requires a tremendous amount of core and full body stabilization.

2) Single Leg Strength Development

The split position in the split jerk (following the clean in "clean and jerk") "requires great stability in the lead leg, similar to the striking of the foot to the ground while in sprinting" says Flemming. The fact that a heavy load is held above the head in this split position compounds the strength and stability challenged in the lead leg and also in the hips and trunk.

3) Shoulder Stability Development

Supporting a heavy weight overhead, such as after the jerk or when receiving the bar in the snatch develops "intrinsic shoulder strength" and a great deal of shoulder stability, says Flemming. With the shoulders packed into the body, the dynamic stability function of the rotator cuff and all the supporting musculature around the shoulder and scapulothoracic joint have to create a stable platform so the bar can be balanced in the correct position overhead.

*****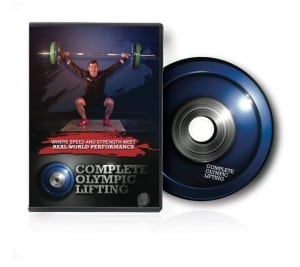 If you enjoyed this post, you will really enjoy Wil Flemming's new product Complete Olympic Lifting. I had the pleasure of receiving a review copy a couple weeks ago and to be honest, I was blown away. It's an electronic manual (PDF) with a real (yeah, real, not just YouTube videos) DVD.
I own a ton of electronic fitness products and this product from Wil is at the top of the list when it comes to production value. The graphics, photos and layout are amazing and a pleasure to the eyes. Yes, I just said pleasure to the eyes. The information is also top notch but that's no surprise because of all the quality content Wil contributes to T-Nation.
Coaches and trainees will both benefit from this great resource. Wil also has several sample programs for all abilities. I strongly encourage all trainees learn how to O-lift from actual coaching sessions (one-on-one or in a small group and hands on) but this manual and DVD will act as a great resource for you years down the road. At least, it will for me.
Click HERE if you're inserted in finding out more about Complete Olympic Lifting.
That's a wrap.
Please leave your comments below and please share this article with others if you think they'll find it useful.
-JK