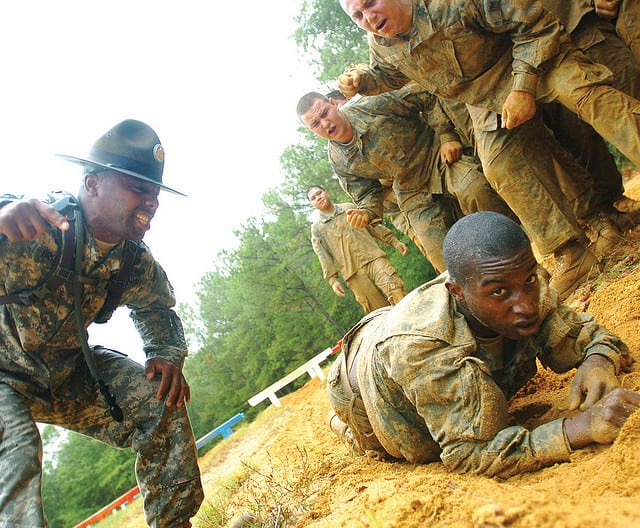 If boot camp is your only strength training…..you don't have any strength training.
— Functional FitnessVA (@funcfitVA) April 2, 2012
I came across this Tweet back in April (hence the date!). I sat there and thunk about it for a bit.
I don't think it's correct to generalize boot camps as not effective strength training. I've been approached by many runners asking what the best form of cross training is, and some have mentioned doing boot camps.
Most people who join boot camps are looking for a good workout, in a group setting (which is usually cheaper) and tend to have minimal to no exercise experience (your first mistake!). Most of the runners I have trained don't have a clue what a good squat looks like or how to hip hinge correctly – and that's to be expected. Runners run, they don't specialize in lifting weights.
Here's a great article I wrote about being effective in the gym HERE.
Boot camps can have a great atmosphere, but if your form sucks, the guy leading the class of 30 isn't going to have time to give you the attention you need. I would highly recommend being in tune with your exercise technique before joining a boot camp – this will reduce your injury risk and allow you to workout on a more consistent basis over a longer period of time. Sorry for the tangent…back to strength training.
Obviously everyone is at a different strength level. Some will actually develop strength while participating in boot camp workouts. The weight used isn't normally high, but some people will actually get stronger with these loads.
If you have a descent level of strength – this Tweet applies 100%. There are many blog posts on here indicating that maximal strength training (loads greater than what you would use for sets of 5 reps) is the favoured form of weight lifting for runners. From this post HERE, you can also read that strength training and plyometrics (article HERE) are very important in helping you improve your running economy and running speed.
Bottom line: Boot camp training can be strength training, but it depends. It wouldn't be my first choice when a runner asks me the best options for improving strength.
Will it help your running? Well, since it's more like circuit training, then I would have to say no. Read this article HERE for more info.
Thanks for reading.
I hope you found this helpful.
Run strong,
-Jon
photo credit: The U.S. Army via photopin cc