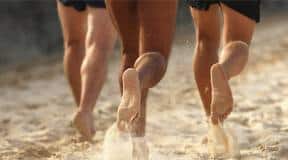 A few weeks back, I participated in a Health Talk with a few other health care professionals in Port Moody. It was hosted by the Runner's Den, which is a specialty running store that used to sponsor me when I was competing.
I answered questions on strength training and core stability training and it's application to runners.
One question that stood out, was "what are you thoughts on barefoot running?"
With all the hoopla on barefoot running over the past year, people want to know if it's going to be all it's made out to be and that's understandable.
Alright, here are some of the points I mentioned:
Barefoot running isn't for everyone.  Some people with extreme biomechanical deficiencies "work better" with orthotics, braces or special types of footwear.
Elite runners wear different types of footwear depending on the type of run workout they are doing.  Very very very very rarely will you find an elite runner run 100% of the time either barefeet or in Vibram Fivefingers.
Elites spend more time in low profile shoes than recreational runners.  Track spikes and racing flats have a very low profile and allow runners to land more mid-foot compared to really built up cushy shoes.  Their bodies are used to running in these types of shoes, so the transition to running barefeet or in something like the Fivefingers isn't as extreme as it would be for a sedentary person wanting to start a running program.  Elites would want to either perform their running drills or cool downs barefeet to improve proprioception, ankle stiffness and arch muscle activity and strength.  Running workouts, like repeat miles or hill repeats will be performed in racing flats or track spikes.
Elite runners will usually wear similar or thicker than racing flat type running shoes for "easy runs" AKA "off day runs."  Because some runs may be on cement, the shoe provides impact protection and saves the joints and the body from the high amounts of mileage elite runners usually put in per week.
The tribe known for barefoot running doesn't run on concrete, sit at the computer all day and lead a sedentary lifestyle.  Oh ya, they have been running with minimal footwear since they were born…THEIR BODIES ARE USED TO IT!!  Compare all those points to the population who live in the modern western world who want to join the minimalist running cult.
Runners who want to try barefoot running and are used to wearing thick soled running shoes should transition slowly to thinner and thinner soled shoes to teach the body how to adapt to the new stresses of barefoot or minimal running.  Just as you would progressively overload weight in the gym, you have to progressively transition the new stresses on the body with flatter and flatter shoes.
So, the bottom line, it really depends.
-JK