By Julia Howard, MPH, RHN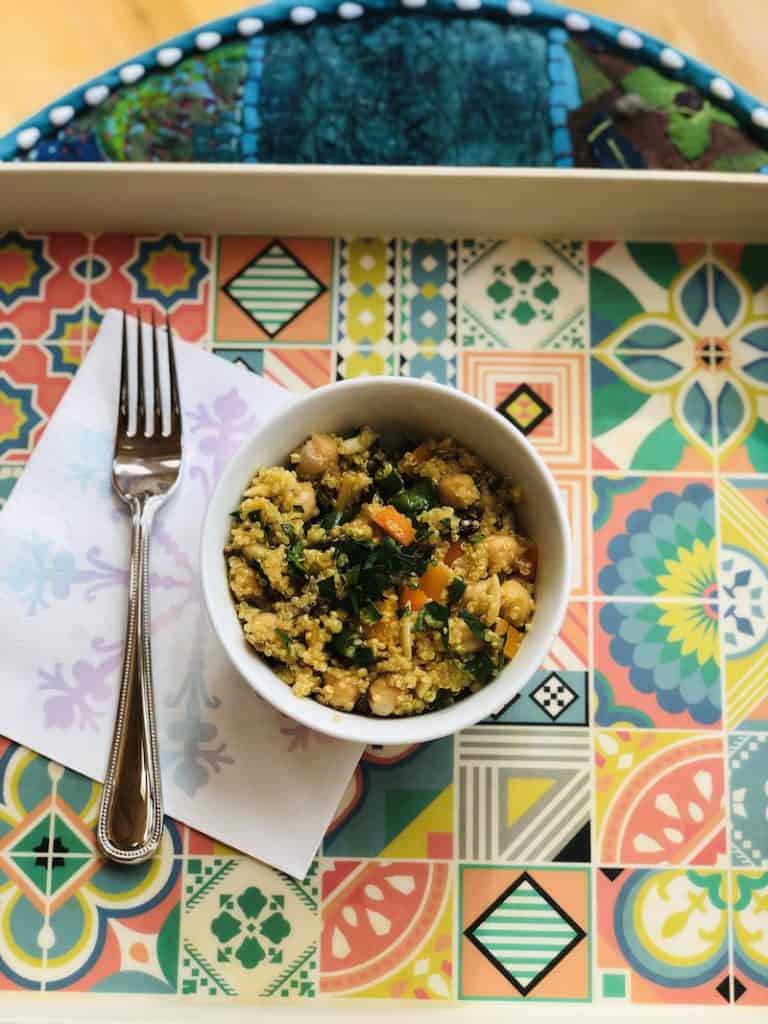 I came across this salad several years ago as I was first learning how to use quinoa and I've tweaked it a bit since. The beauty of this salad is that the flavours of the spices in the dressing continue to deepen and blend the longer it stays in the fridge. I find it tastes best after a day or so.
If you're like me, you find quinoa a bit flavourless so it's not typically my first choice of grain, although it is higher in protein than most grains. This salad is a great way to use up that big bag of quinoa that's been hanging out in your cupboard.
I like to make it as a light lunch or as a side dish at a barbecue. Note: This recipe will fill a very large bowl!
I will sometimes use lemon juice instead of apple cider vinegar for a slightly different flavour. If you're not a fan of cilantro, you could try fresh parsley instead for some extra green.
Curried Quinoa & Chickpea Salad
Salad Ingredients
2 cups quinoa (dry)
4 cups veggie broth (e.g., Pacific Foods organic vegetable broth)
1 cup sliced almonds
1 cup craisins (dried cranberries)
1/3 cup green onions, thinly sliced
1 yellow bell pepper, chopped
1 orange bell pepper, chopped
1 can chickpeas, drained and rinsed
1/2 cup fresh cilantro, coarsely chopped.
Dressing Ingredients
6 tablespoons extra virgin olive oil
1 lemon, juiced or 4 tablespoons apple cider vinegar
1 clove garlic, crushed
1 teaspoon ground cumin
1 teaspoon mild curry powder
2 tablespoons real maple syrup
Sea salt to taste
Directions
Cook 2 cups of quinoa in 4 cups of broth.
While quinoa is cooking, prepare other ingredients and combine in a large bowl.
When quinoa is finished cooking and has cooled, add together ingredients in a large bowl and combine well.
Make dressing in a separate container, mix well, and then add to the salad.
Eat at room temperature immediately or cover and keep in the fridge for a few days.
Enjoy!
~Julia
If you're confused about nutrition or have some nutrition goals you need help with, we offer online nutrition coaching!