By Julia Howard, MPH, RHN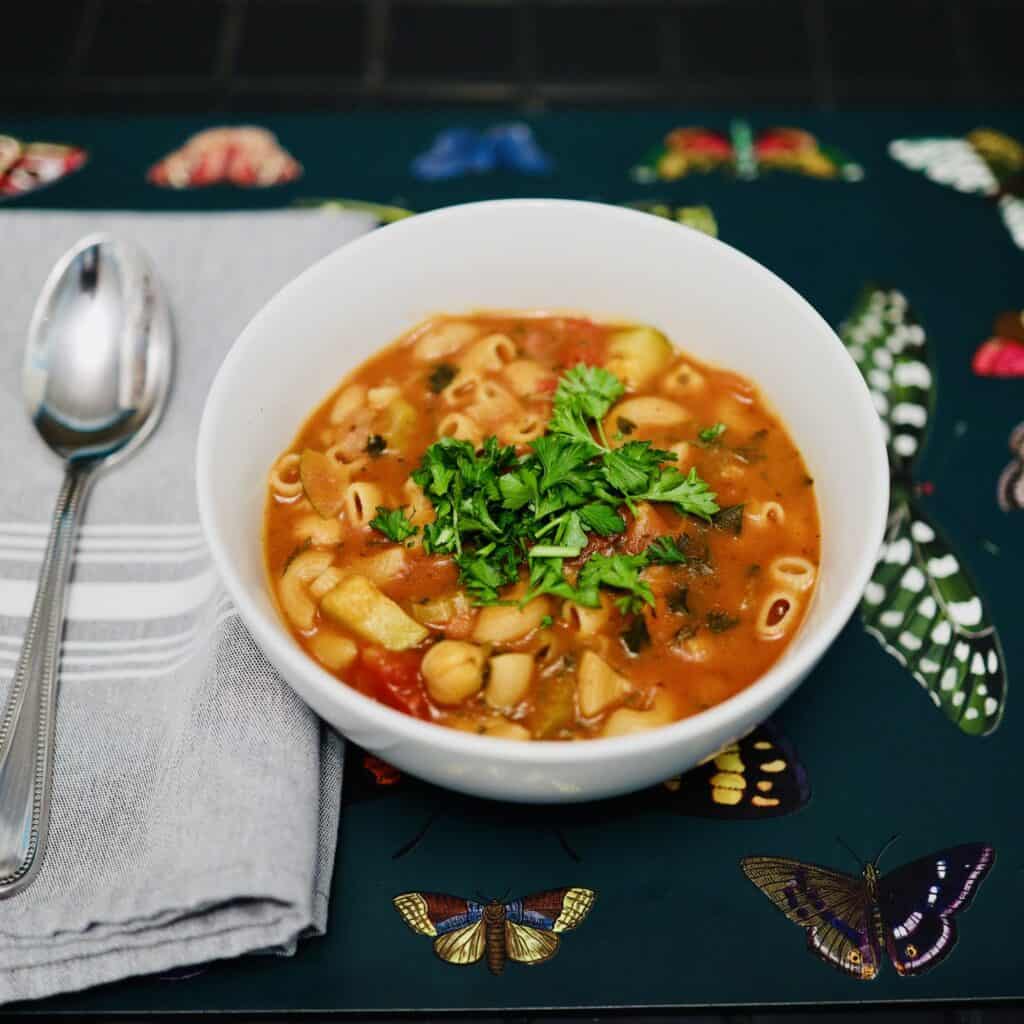 If you're looking for a chunky vegan soup that eats like a meal, check out this Smoky Minestrone Soup Recipe.
The key ingredient in this plant-based soup is smoked paprika. The smoky flavour may make you a little nostalgic for bbq season or even a trip to a faraway land. This soup will also make you toasty warm on a cold winter's day and, without a doubt, FULL.
This soup is thick!
(Prep time is about 10 minutes. Cook time is about 25-30 minutes.)
Ingredients
3 tablespoons extra virgin olive oil
1 large onion, finely chopped
4 cloves of garlic, peeled and finely sliced
4 celery sticks, chopped into half moon shapes
2 cups carrots, peeled and chopped
1 teaspoon chili powder
1 teaspoon dried basil
1 teaspoon dried oregano  
1/2 teaspoon smoked paprika
1/2 teaspoon cayenne pepper flakes
1 pinch of sea salt
1 large zucchini, chopped
1 large can (796mL) diced tomatoes with juices
1 small can (156mL) tomato paste
1 can (398mL) chickpeas, drained
2 cups brown rice macaroni pasta (uncooked)
1 carton (1L) veggie broth (I used Pacific Foods organic low sodium veggie broth)
2 cups water
1 bunch of fresh parsley, coarsely chopped
Directions
In a large stockpot, heat 3 tablespoons of extra virgin olive oil on medium high heat. Add spices and cook lightly for a minute or two.
Next, add onions, carrots, and celery and stir to coat with spices. Sauté veggies for a few minutes until they start to soften.
Next, add zucchini, diced tomatoes, chickpeas, veggie broth, and tomato paste, stirring occasionally.
Once veggies have softened, add two cups of water and 2 cups of rice pasta macaroni (uncooked). Bring to boil on high heat and then turn down to simmer for a few minutes, until the pasta cooks.
Turn heat to low, add chopped parsley, and stir for a couple more minutes.
Spoon soup into a bowl and garnish with more parsley.
Enjoy!
~Julia 🥦
Want to make the shift to healthier eating? We offer nutrition coaching!