By Julia Howard, MPH, RHN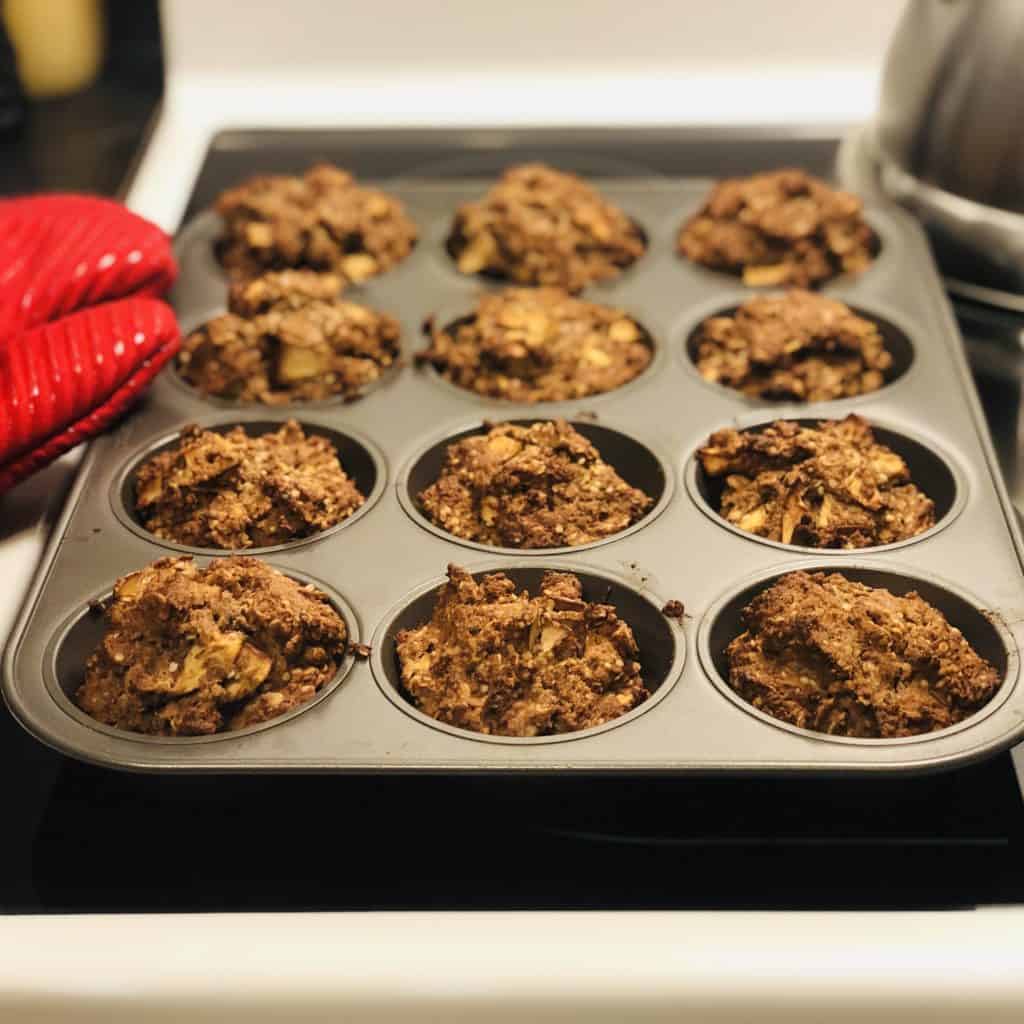 I know what you're thinking… Gluten-free muffins!? Moving on.
Wait! I developed this recipe when I was first learning to bake gluten-free and it's been a staple of my homemade snacks ever since.
I used to ignore/deny the fact that I felt better when I was eating gluten-free. But, the better my diet got (and consequently, my digestion), the more I realized that this issue wasn't just in my head.
Despite eating a mostly whole-food plant-based diet, I still had issues (e.g., fatigue, foggy head, anxiety, heartburn, slowed digestion) when I ate gluten-containing foods. I have also tested negative for (classical) celiac disease.
Interestingly, a 2018 study (systematic meta-analysis) on this topic was actually titled "Mood disorders and gluten: it's not all in your mind!". The study, which included 3 randomized controlled trials and 10 longitudinal studies with a total of 1139 participants, supported the notion that, in susceptible individuals who have celiac disease or non-celiac gluten sensitivity (NCGS), a gluten-free diet may help improve symptoms of mood disorders.
Unfortunately, unlike classical celiac disease, there is still no agreed upon biomarker for a clear diagnosis of NCGS. A clinical diagnosis of non-celiac gluten sensitivity is currently made using clinical criteria such as "The Salerno Experts' Criteria" which includes the strict elimination of gluten, followed by a well-controlled reintroduction of gluten, and the detailed tracking of symptoms. Of course, this is only done once the diagnosis of celiac disease has already been ruled out.
Please note, that the self-diagnosis of non-celiac gluten sensitivity is not recommended. It is helpful and strongly advised to discuss this concern with a qualified healthcare professional who can rule out other conditions, including classical celiac disease or irritable bowl syndrome. As a Registered Holistic Nutritionist, I cannot diagnose or treat conditions. This information is for educational purposes only.
But, if you're one of those people who feels better on a gluten-free diet, here's my favourite muffin recipe. I sometimes substitute hemp seeds in for walnuts.
Gluten-Free Apple Walnut Flax Muffins
Dry Ingredients
1.5 cups brown rice flour
2/3 cups ground flax seed
1 heaping tsp cinnamon
1 tsp salt
1 tsp baking powder
½ tsp baking soda
1 cup apples (about 2 medium-sized) chopped (I like to leave the peels on)
1 cup chopped walnuts (substitute nut-free alternative like sunflower seeds or hemp seeds, if needed)
Wet Ingredients
2 eggs
½ cup coconut oil melted
2 tsp vanilla extract
1 cup unsweetened apple sauce
½ cup maple syrup
Directions
Preheat oven to 350 degrees Fahrenheit
Mix together all dry ingredients except apples and walnuts in a bowl
Whisk together wet ingredients in a separate bowl
Add dry ingredients to wet ingredients and stir well
Fold in apples and walnuts
Spoon batter into muffin tin and bake for approximately 35 minutes.
Thanks for reading,
~Julia
If you're confused about nutrition or have some nutrition goals you need help with, we offer online nutrition coaching!
Sources
https://www.mdpi.com/2072-6643/10/11/1708/htm
https://www.ncbi.nlm.nih.gov/pmc/articles/PMC4488826/
https://www.ncbi.nlm.nih.gov/pmc/articles/PMC6545713/