By Julia Howard, MPH, RHN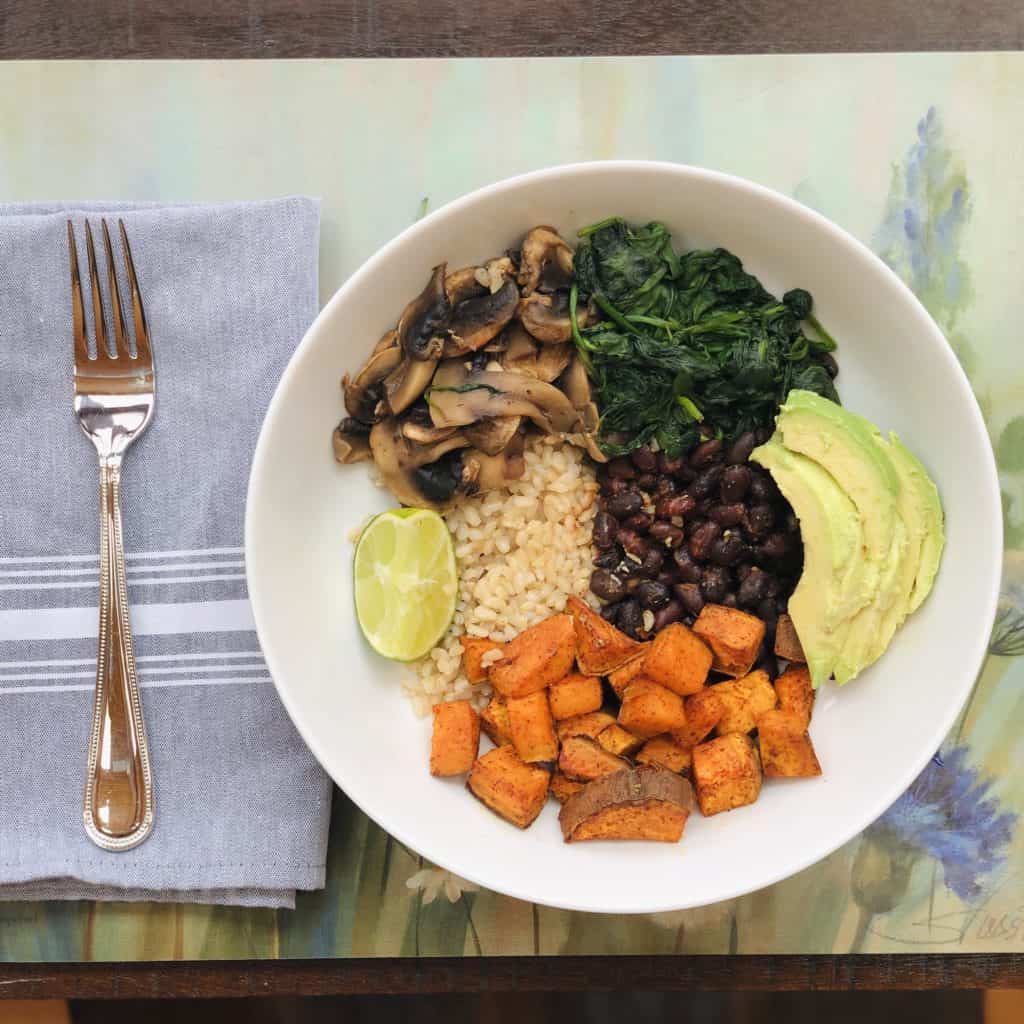 During times of stress, don't be too hard on yourself if you fall off the nutritional wagon. The key is to get back on as soon as you can. You don't need to beat yourself up over it or continue eating poorly as if all is lost.
Who had chips and wine for supper last week? Yep, me too. And that's ok. You need to give yourself a chance to let the initial shock of this dramatic shift in how we're all living register.
But this week, let's take some time to get back to a routine. Try to keep meal times similar to how they've always been. Prioritize a varied whole-food, plant-based diet of colourful fruits and veggies. This type of diet will provide your body with the phytonutrients and fibre it needs to support your immune system, improve your gut health, and help you deal with stress.
If you're taking this time at home to focus more on your nutrition, incorporating more plant-based proteins into your diet is one thing you could try. If you're looking to add some more canned beans and lentils to your diet, be sure to check the sodium content on the label and try to choose a "no salt added" variety. 
Need some inspiration? Here's one of my favourite plant-based recipes, the Easy Bean Bowl.
Easy Bean Bowl (Serves 3)
Ingredients
3 tbsp extra virgin olive oil
1 can of black beans (or adzuki or mung beans, rinsed and drained)
1.5 cups of short grain brown rice (or quinoa), cooked in water
1 lime, juiced
7-8 mushrooms, sliced
3 handfuls of salad leaves (e.g., spinach, kale)
1 large sweet potato, chopped and roasted
½ tsp chili powder
Pinch of sea salt
Avocado, sliced
Directions
Preheat oven to 350 degrees F.
Prepare rice (brown rice takes about 40 minutes to cook).
Chop sweet potato into cubes, place onto a pan, and drizzle with 1 tbsp extra virgin olive oil and sprinkle with chili powder.
Cook sweet potato for about 20 minutes.
Heat oil in a pot and add black beans, stirring occasionally while coating beans in 2 tbsp water, juice of lime, a sprinkle of chili powder, and a pinch of salt.
Sauté your greens and mushrooms in a few tablespoons of water and salt.
Build your bowl! Grains on bottom, beans in the middle, + root veggies, greens, and mushrooms on top.
Season with lime juice, salt, and freshly cracked pepper.
Optional: add slices of avocado on top (1/4 avocado each/bowl).
Hope you enjoy and thanks for reading,
~Julia
If you want to learn more about nutrition or have some nutrition goals you need help with, we offer online nutrition coaching!