Here's part III of my 30 Years 30 Health and Fitness Tips.
Disclaimer: I am not a nutritionist or dietician. I do not provide meal plans or claim to be a nutrition expert. I only make recommendations on what foods to eat or avoid based on past experience and my education.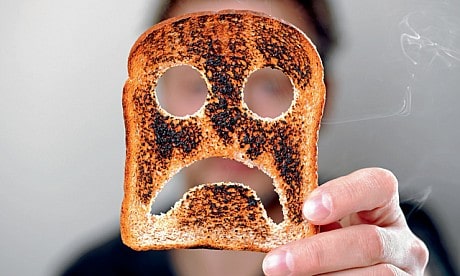 21. Gluten-free alternatives are just as bad as the gluten rich products in terms of nutritional content. If you're dying for a grilled cheese or burger, eat these products in moderation.
22. On that note, most health problems are caused with the combination of wheat, sugar and alcohol in the body. Again, refer to the Perfect Health Diet.
23. The only thing you should drink is water, period…or juice from a juicer…or some teas…okay, or organic coffee (but seriously take out all the high-sugar beverages – this includes diet pop).
24. Invest in your health now – be preventative – or just wait until you're sick and spend all your hard earned money then.
25. Juicing is great to get many nutrients in your body you wouldn't normally. This does not replace eating the real thing. Eat salads and throw some spinach, kale and/or broccoli into your shakes – trust me, it's not that gross.
26. Be the change you want to see in yourself. Move more throughout the day and exercise!!
27. Reducing the amount of toxins you consume is the goal of the Perfect Health Diet. (getting the hint on my new favorite book on nutrition??)
28. Get a support system in place before changing your lifestyle. Surround yourself with health-conscious, like-minded people. Remove all the negative people in your life and people with health habits you don't want. You're more likely to be successful.
29. Laugh, smile and cherish your life on this planet. You never know when you'll be hit with illness.
30. Chill out! Try reducing stress to improve overall health and your well-being. Take time for yourself daily. Learn how to meditate. Find a job you love and it wont be a job. Sleep 8 uninterrupted hours nightly.
And remember, exercise is more effective than any pill on the market at improving your health and level of wellbeing. Side effects include more strength, larger muscles, better health, mobility, flexibility, a better sex life and looking great naked.
Well, that's a wrap – all 3 parts have been posted.
I hope you enjoyed this series. Please leave your comments below.
Thanks for reading.
Please LIKE and share on Facebook and Twitter. Also don't forget to add me on Facebook if you haven't already. You can also subscribe to my feed.
-JK