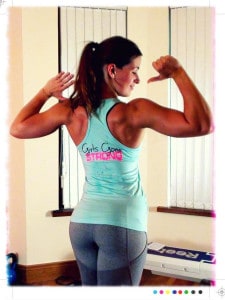 Last year when I moved east for school, I had to drop many of my regular clients (I'm so sorry!). I directed them to a select number of trainers and also to a couple of fitness websites – one of them being www.myomytv.com – home to Marianne Kane, a passionate fitness trainer, blogger and one of the founding members of Girls Gone Strong.
I can recall one of my previous female clients telling me recently that she's still following MyoMyTV and incorporating Marianne's workout ideas into her workouts. (forgot to tell you Marianne!)
Marianne has a very popular Youtube channel where she posts hardcore workouts for all abilities.
I'm stoked as Marianne did a special workout video for JKConditioning, which, she called the JKConditioning Dragon Pyramid [how fitting!?]. I'll pass things over to Marianne (enjoy!).
Hi everyone,
I am totally thrilled to have this opportunity to provide you all with a Myomytv-style Kettlebell and Bod Weight Workout Routine! There's nothing I love more than designing a killer workout and then putting it to the test.
After nearly 3 years of mixing my own workouts with traditional gym-based training, I have seen my body change in the best kind of way – better performance and better shape! I know many lifters who just hate cardio and hate conditioning, but I personally love to have my heart and lungs working to their max and the sweat flying everywhere … it's such a great feeling once it's all over to look back at what you've done. My blog provides me with the ultimate motivation to keep churning out new workouts week after week … it's addictive!
So, without further ado, I challenge you to this Pyramid Workout!
I have set the reps at a level I knew would challenge me (actually, I didn't expect it to take as much out of me as it did :-/ eek!), so I recommend adapting it to your own fitness level (this may well be higher than mine).
There are 5 rounds of the following 5 exercises, and this whole routine took me just under 19 minutes to complete. I have written the reps I did and the weights I used in brackets beside the exercises):
1. Bottoms Up Goblet Squat (20kg): x6, x8, x10, x8, x6
2. Two-Handed Kettlebell Swing (20kg): x10, x15, x20, x15, x10
3. Renegade Row (16kg/hand): x6, x8, x10, x8, x6
4. Skater Hops/Jumps: x6, x8, x10, x8, x6
5. Burpee: x6, x8, x10, x8, x6
DEATH!
Okay, maybe not death, but I at one point I thought I'd never catch my breath!
I recommend choosing a moderate weight that will challenge you, but won't defeat you!
Enjoy!
Thanks again Jon, for letting me invade your cyber-space.
Cheers,
Marianne
JK here again – thanks Marianne.
Make sure to check out www.MyoMyTV.com for more awesome workout ideas.
Thanks for watching,
-JK